iOS SDK
Set Up Your Offer Wall Profile
Log in to the dashboard and navigate to the offer wall page via the main navigation to create your Offer Wall profile. The profile will contain the settings for your Offer Wall. Once you select to create a new Offer Wall profile, you will have a few options to select from. See below for explanations: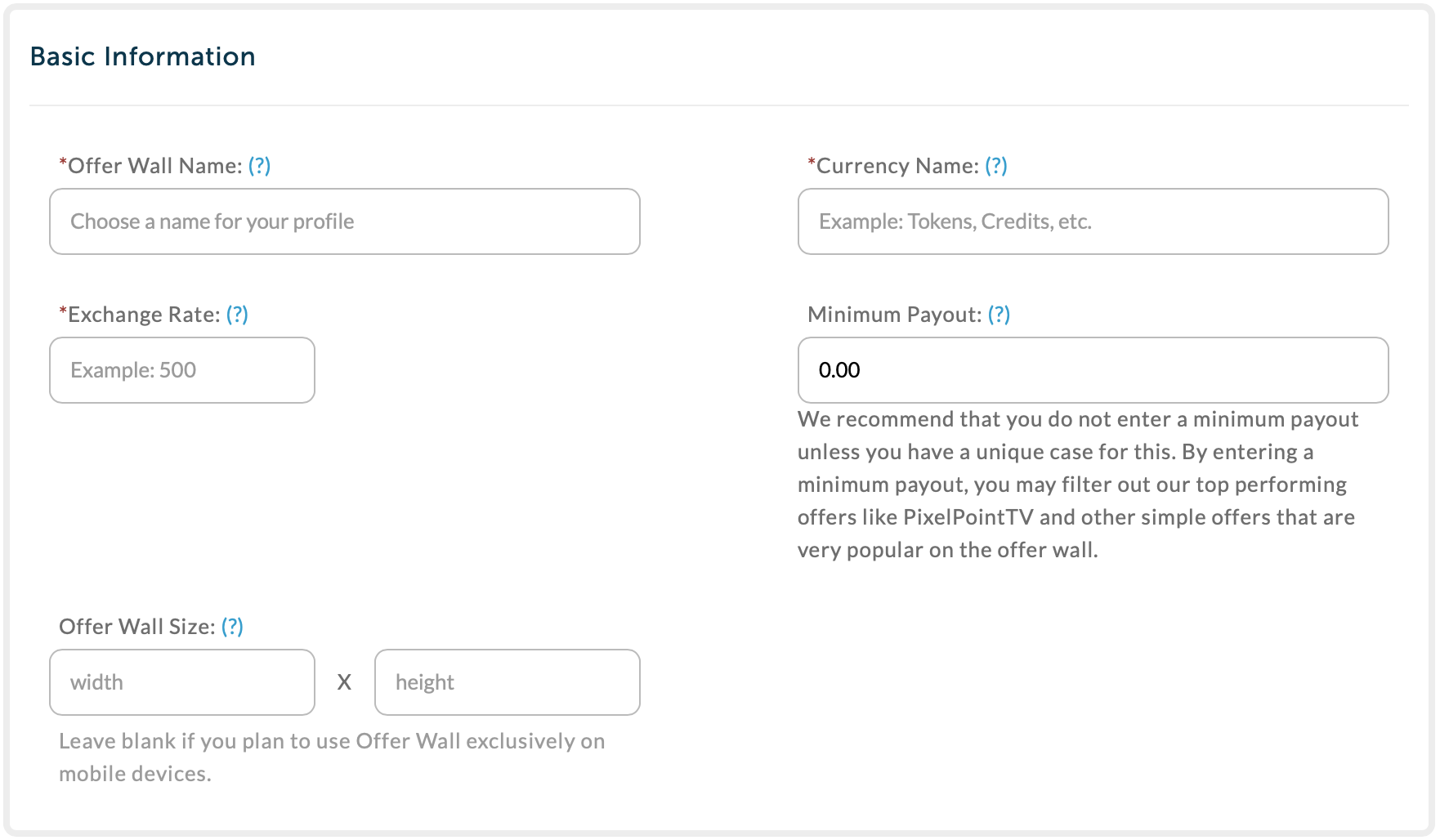 Offer Wall Name: This is visible only to you. If you have multiple apps, each with different settings, you may want to create a separate profile for each. This name field is to help you differentiate between your profile configurations.
Currency Name: This is what you will call your digital currency. For example, "DigiCoins" or "Super Bucks." This name will show up inside the button that corresponds with each offer, along with the amount that the user will earn for completing the offer.
Exchange Rate: This refers to how many points of your digital currency a user will earn for completing a specified offer. For example, if you would like your user to earn 3,000 digipoints for completing an offer that pays you two dollars, then put "digipoints" for the currency name and 1,500 for the exchange rate.
Minimum Payout: To exclude offers with low payouts (not recommended as many low payout offers tend to be popular) put an amount here that you would like to use as a threshold.
Embed Size: This option should be left blank, as you will not be embedding the Offer Wall via iframe

Included Offers: By default, we include all offer types into your Offer Wall. If you would like to exclude offers of a certain type from your wall, uncheck those boxes here. BE AWARE: Offers will be excluded if they apply to a category you select and a category you don't select. Therefore, Mobile App Installs will be excluded if you select the "Free" category in this section for example, since mobile app installs cost nothing to the user.
Other Options (not depicted) include:
Round Currency: It is possible for some offers to have a decimal value as part of their payout. Check this box if you would prefer to round to the nearest integer.
Hide Currency Count: By default, we display how much currency your user has earned directly on the Offer Wall. If you would prefer to show your users their balance elsewhere on your app, check this box.

Once your profile has saved, you will continue to the integration page. This page will provide you all the values you will need. Select the API/SDK Integration toggle to view your Publisher IDn AdWall ID and your API Key.